This Thursday, October 24th, was my second last field experience day for the Fall semester! It was a great day and probably the day that I walked away with the most feedback so far. The reflecting that I have done on this particular experience has and will continue to shape my teaching career.
I decided to plan a cross-curricular lesson on identity for my last two days in the school. I taught the Arts Ed. portion of the lesson on Thursday and the ELA portion on Friday. Here is my lesson plan:
Arts Ed. and ELA Lesson Plan
Grade 8/9 
October 24th (Arts Ed.) and October 25th (ELA)
Theme: Identity
Grade 8 Outcomes: 
CR8.3 Investigate and identify how arts expressions can reflect diverse worldviews
(b) Describe how diverse worldviews may be represented in the arts.
CC8.1 Create various visual, oral, written, and multimedia (including digital) texts that explore identity (e.g., Telling One's Life Story), social responsibility (e.g., Examining the Influence of Popular Culture), and efficacy (e.g., Creating Turning Points).
(a) Create a variety of texts (i.e., oral presentations, written and other compositions) that represent experiences, ideas, and information about identity, social responsibility, and efficacy with clarity, correctness, and variety.
(c) Represent, articulate, and explain personal viewpoints clearly.
Grade 9 Outcomes:
CR9.3 Investigate and identify how arts expressions can challenge thinking about values, ideas, and beliefs. 
(a) Describe how the arts can transmit or question values, ideas, and beliefs.
(b) Examine the intentions, development, and interpretations of own arts expressions in relation to own experience, values, and perspectives.
CC9.1a Create various visual, multimedia, oral, and written texts that explore identity (e.g., The Search for Self), social responsibility (e.g., Our Shared Narratives), and efficacy (e.g., Doing the Right Thing).
(a) Create and deliver a variety of personal, literary, and informational communications, including poems, stories, personal essays, and oral, visual, written, and multimedia presentations (e.g., written explanations, summaries, arguments, letters, biographies) that address identity, social responsibility, and efficacy.
Methods: brainstorm, inquiry, concept attainment, discussion, concept formation
Management Implications: I will use respectful words and a clear voice to address behaviour issues should they arise. I will also monitor student behaviours as I walk around the room during their independent work time.
Adaptations for Student Needs: I will walk around the room while the students are working. If there is a need for adaptation, I will address it as needed (ex. I may allow some students to record their poems in an alternate way if necessary). 
Setting the Stage for Learning: I will write the agenda for the lesson and the big ideas on the whiteboard prior to each class. I will also have my examples displayed each day, for the portions of the lesson that we are addressing.
Materials: examples of identity map, art piece, and poem; checklist; marker; whiteboard; papers; markers; pencil crayons
Procedures:
Arts Ed.: 
1) Introduce an identity map. Start by assessing students' prior knowledge.
2) Explain how to complete an identity map and show the students my own example.
3) Explain that students are to create their own identity map and piece of abstract art expressing their identity.
4) Show my example of abstract art.
5) Give the students time to work independently.
ELA:
1) Review the idea of an identity map and my own example.
2) Review the art assignment and my example.
3) Explain the next step (creating a poem reflecting their identity).
4) Read my example aloud and display it at the front of the room for student reference.
5) Explain the assessment checklist and that I will be speaking to students individually.
6) Give the students time to work.
Student Assessment: I will use a checklist during the ELA lesson while the students are working. I will speak to each student individually to assess their understanding of the lesson outcomes from both days. The students will also hand in their completed work for summative assessment following the lessons.
Personal Goals: I want this lesson to be an opportunity for the students to self-reflect. My goal is to be transparent with them, in order to encourage their own time of reflection and self- awareness. 
Resources: 
Identity Map Template (I didn't use one, but you could): there are many places to find examples
Saskatchewan Curriculum: https://www.curriculum.gov.sk.ca/webapps/moe-curriculum-BBLEARN/index.jsp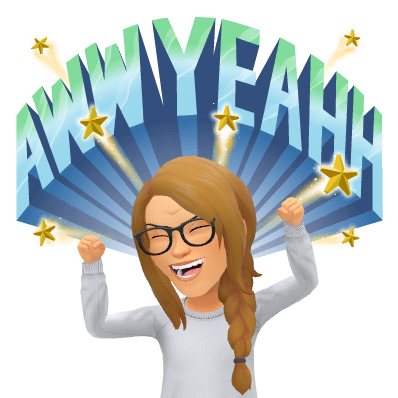 I received a lot of feedback after the Arts Ed. portion of this lesson from my coop teacher and my placement partner. I am so thankful for this because it helped me to really reflect on the lesson and further my goal setting for the future (which I will outline in a separate goal setting post). This day was, again, a wonderful experience in my field placement and I had a lot of fun teaching as usual!